We offer a defect analytics service, which is essentially the culmination of our global top tier welding technology and image analysis technology.
Non-Destructive Evaluation
Know-how + AI
D-Vision
We produce rotor shafts and turbine casings, both of which are officially recognized as world-class products and which are only manufacturable by holders of advanced NDE technology.
Global Top Tier Welding Technology
Doosan Enerbility
Innovation
Digital
Doosan has been leveraging its technological prowess, which was steadily built up over the years, to the digital business as part of its digital transformation initiatives and has been pursuing the commercialization of digital solutions. By applying image analysis technology, Doosan seeks to provide useful analytics services in various fields, including the fields of NDE and materials.
Introducing to you the swift and accurate D-Vision.
D-Vision is a deep learning-based, non-destructive examination (NDE) image analytics service, which is offered to help assess the acceptability of welded components like tubes and pipes, by analyzing their NDE films and images to detect any possible defects. The solution can be applied in various business sectors, including the power generation, shipbuilding and aviation sectors, to achieve maximum NDE efficiency.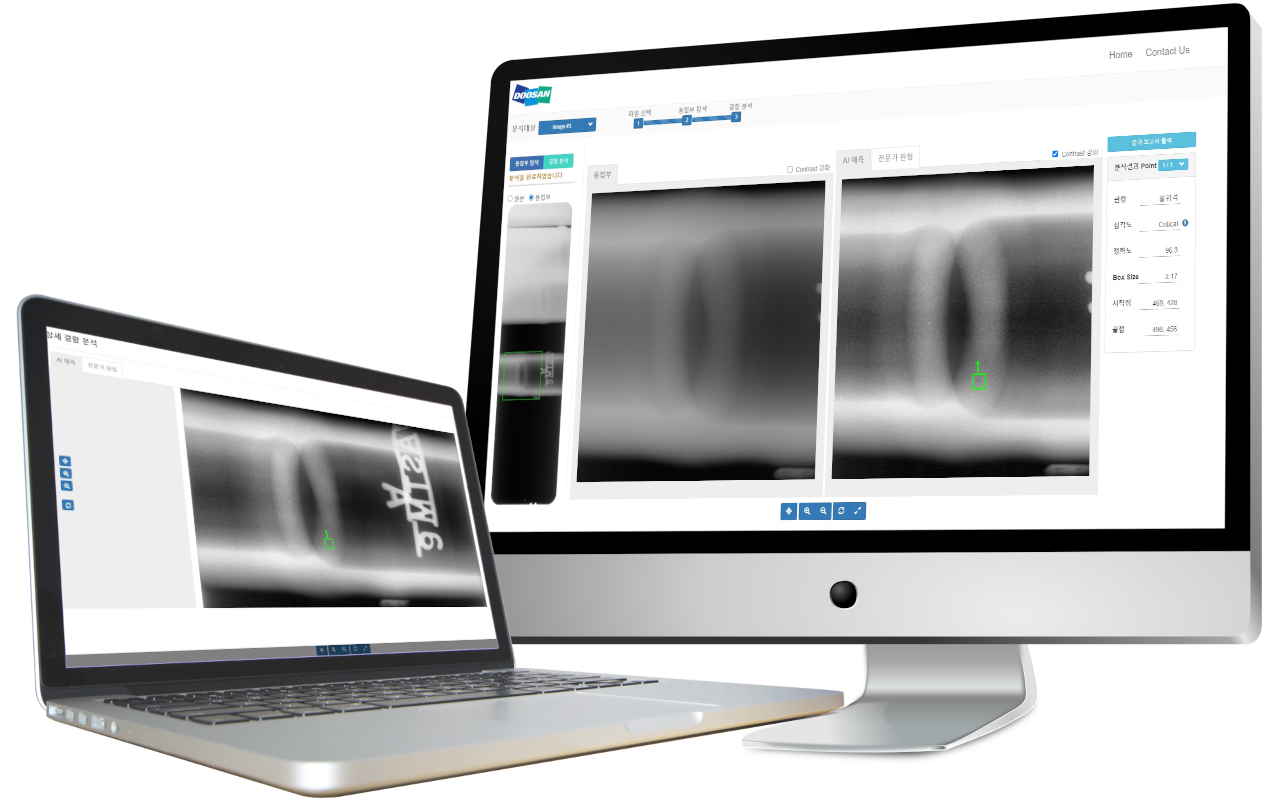 We offer a defect analytics service, which is essentially the culmination of our global top tier welding technology and image analysis technology.

Real Time Defect Analysis & Assignment Supported in Cloud Environment
 Using Doosan's high quality NDE data, transfer learning is applied on the images of defects, enabling swift and convenient defect detection in the cloud environment and thus, eliminating the need to set up a separate system.

High Accuracy in Detecting Defects
With the application of upgraded image analytics, such as TTA (Test Time Augmentation) and NMS (Non-Maximum Suppression), accuracy is much enhanced.

Security-Conscious Power Sector's Welding & NDE Technology Applied to Detect Defects Unidentifiable With the Naked Eye
Upgraded image pre-processing technology, such as CLAHE (Contrast Limited Adaptive Histogram Equalization), is applied.

Study of Customer Data Enables the Development of Customized Defect Detection Model
Training data augmentaion through virtual defect generation algorithm makes it possible to detect defects more efficiently even when provided with just a limited supply of bad data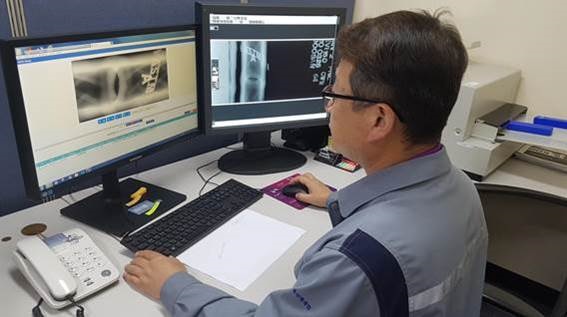 [

Non-Destructive Examination Dep't,

Doosan Enerbility

]
1. Since when and for which project was this solution used?
We have been conducting demonstration projects on the welded tubes of boiler pressure parts since late 2019. The K-Project was our very first demo project, and we are currently conducting another demo project on a partial basis via radiographic testing of the welded tube parts for the S-Project.
2. What sort of benefits can be expected from this solution?
First, the expertise and know-how of skilled examiners can be transferred in an objective manner.
Non-destructive evaluation(NDE) are conducted by highly qualified examiners, who obtained their know-how through much trial and error during the long years of working as an NDE examiner. With this solution, one will be able to learn the skills and know-how held by such experienced examiners and learn how to use this to derive objective results. As such, this will be good reference material for new examiners who have yet to hone their skills in this area.
Secondly, basic human errors can be prevented.
If someone had to conduct numerous examinations in succession within a short period of time, the person would most likely end up being exhausted and his/her concentration level would fall, leaving much room for examination errors. This could potentially lead to disastrous results if it were to result in the delivery of a defective product. To prevent such human error from happening, this solution can be used for cross-checking purposes, as a means of effectively preventing any errors from occurring in the examination process.
Thirdly, evaluation criteria that can be used as reference guidelines are established.
NDEs are basically subjective evaluations as the examiners draw on their own knowledge and experience for the examinations.
However, there may occasionally be some orders that are rather difficult to assess, or differences in opinion may arise among the examiners or with the client. In such cases, the results obtained from the solution can be used as the guideline for an objective evaluation, thereby minimizing the risk of disputes.
3. Any additional comments can be mentioned here.
As we have now entered the era of the fourth industrial revolution, automation and data utilization is fast becoming a general industry trend. Even the NDEs are shifting from the analog-type inspection to a more systematic inspection that is based on digital data. However, we are still in the early stages of NDE-related digital data accumulation and utilization at both home and abroad. Doosan Enerbility seeks to raise its NDE to the next level by applying AI-based defect assessment solutions, and to also expand into more diverse areas, including the area of ultrasound examinations, to ultimately emerge as the global leader of NDE technology.
Come and experience D-Vision!
Anyone is welcome to come try out our D-Vision solution. As the demo version was specifically developed for the purpose of providing customers with a brief experience of D-Vision, it should be noted that only a select number of features are made available on this version.
Contact us if you wish to try out our customized NDE image analytics service!